The world of work is changing with the growing popularity of distributed workers. Organisations are increasingly allowing their employees to work from home. And many people are opting to become independent workers, prefering either to telecommute, or work out of their homes as freelancers or part time consultants. This is a global trend and it has led to a rising demand for what is known as the SOHO – Small Office Home Office. A SOHO is nothing but a cosy, comfortable office setup within your own home, where you can work professionally in a relaxed manner, with the added flexibility of juggling work with personal tasks through the day. Something else – your small home office can be a stylised reflection of your personal tastes – a welcome respite from the cookie cutter, disciplined feel of corporate offices.
At MapleNest, we love the idea of a life that's well curated. So we've put together an assortment of products from the MapleNest range that may be worthy of your elegant home office.
Work Table/Desk: The Roost Roubaix Teak Desk with modern lines for a well-appointed office creates a minimalist work-space in a living room or bedroom. Made from solid reclaimed teak, the desk has open storage cubbies, finger joint construction and iron brackets and leg brace. A top hutch, sold separately, provides extra storage. The hutch and the cubbies together provide ample space for organizing and sorting paper, books, stationery etc. The desk may require some assembly to put it together.
Desk Chair: We'd strongly suggest you give the typical corporate office chairs a miss and go for something refreshing from a design and aesthetics standpoint. Check out the Roost Rouler Chair, which makes smart use of reclaimed materials and is inspired by Mid-Century Danish chairs. The back and seat are woven from rubber straps cut from recycled – tire inner tubes; the legs are made from solid reclaimed teak. The Rouler chair can make a great combination with the Roubaix Teak Desk, fitting in nicely into its leg spread.
Book Shelves: If you are looking for a light-weight shelf that shouldn't add too much gravity to your home office, the Roost Leaning Book Shelf is a great option. Made of handcrafted shesham, the shelf rest on an industrial steel frame to give it an elegant leaning look. The bookshelf features a blackened steel finish that enhances the richness of the wood. You can display books, periodicals or other treasured curiosities on this neat and versatile unit.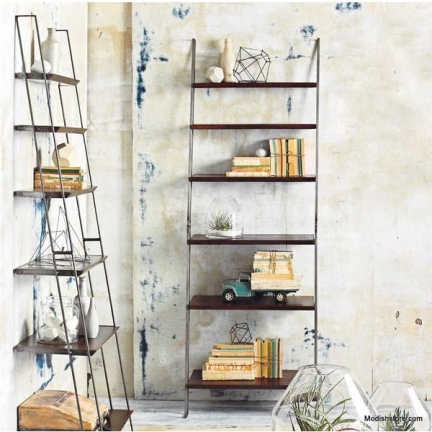 Letter Rack: Move over plastic or wooden table organisers – for your home office, we think you should instead go for the vintage looking HomArt Brass Letter Rack. This will bring back nostalgia of classic correspondence, when handwritten letters were delivered by mail, postcards were saved, and return trips to the post office were a daily occurrence. In our updated world, these brass beauties can still be put to good use, corralling magazines, mobile phones, pens, stationery and yes, perhaps even a postcard or envelope. Each of these racks in uniquely made.
Waste Basket: The Go Home Slate Waste Basket allows you to add a touch of natural decor to your home office. Crafted from slate with an earthy finish, the Slate Waste Basket is a handy product to take care of all your home office's trash needs. The size is just right to slip it into a corner under your desk, so you dont have to get up and walk around to drop something into it.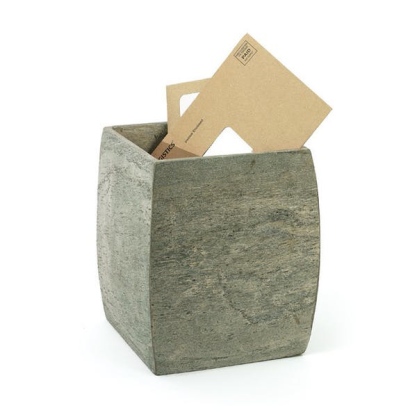 Shelf Bookends: HomArt's Eiffel Tower Bookends are crafted from cast iron with impressive attention to detail and then hand painted in a tasteful antique bronze. These attractive stylish decorations are not only useful but will add just the right accent to your home office. You can use these to stack up books on your shelves, or even your desk. Additionally they also make wonderful gifts, for book lovers, art lovers, and for those with French-themed, travel-themed, or landmark collections.
Wall Clock: Inspired by the vintage style decor of the old Paris flea markets, the Kalalou Black And White Wooden Wall Clock is a rustic time piece that will surely add to the charm of your home office. With its bold white numbers, ornate arms, and old world texture, this beautiful clock sports an industrial wooden look. This one of a kind piece is embellished with bold white numbers laid on the dial along with elegantly placed arms and a cultured vintage world texture on the body.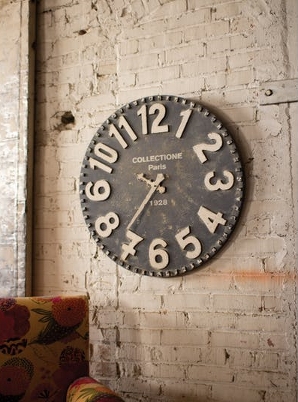 So here's wishing you a great home office. Do send us some photos once you've set it up!