Imagine you've just bought this awesome apartment or a condo. The rooms are all done up, the flooring is spick and span, the furniture is just arriving….. and that's when you get this irresistible urge to set your own home bar. Why not – this is the lifestyle you've always dreamt about. The connoisseur in you wants to have your own cosy bar, stock it with all the liquor and wine you relish, invite friends over for dinner and raise a toast over the barbeque or the dinner table! And all this at a cost that doesn't blow a hole through your pockets.
At MapleNest, we love the idea of a life that's well curated. So here's a quick do-it-yourself guide to help you build up your home bar. We've put together an assortment of products from the MapleNest range that should do justice to what you're yearning for!
Bar Storage Cabinet: If you want to save space without having a dedicated standing storage cabinet, this Kalalou Wire Bar Cabinet is a great option. It can be hung easily on a wall. Its long slender design takes little space and can be the best abode for your wine, beer and other bottles. Another advantage – the cabinet is see through, which means you can pick your beverage from a distance without opening it up.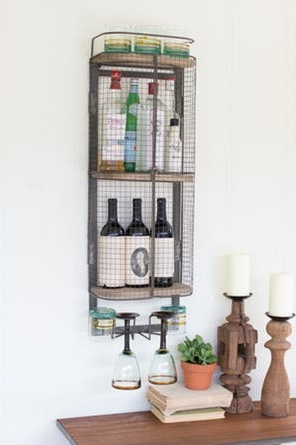 Wine Rack Console: If you are looking for a wine rack, check out the Kalalou Wine Rack Console – a 40 inch wide slim wood multi-use console with a metal insert that is designed to display and distinguish your favorite varietals. With rustic looking wood and a contemporary design, this wine rack console can fit into any home decor style. Try putting this against the wall and keep a vase or book case over it.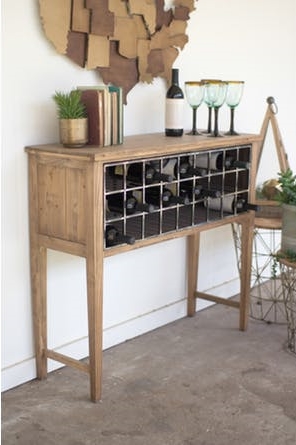 Bar Cart: The Roost Voctoria Bar Cart is a great choice for those wanting something that can be wheeled around lightly. Its visible metallic hardware gives it an industrial character.  Practical and pretty glass shelves complement its dark iron framework. The bottom shelf has extra height for storage, while the top shelf is sized just right for serving. This might require minor assembly, but is a great option for adding a rustic charm to your home bar.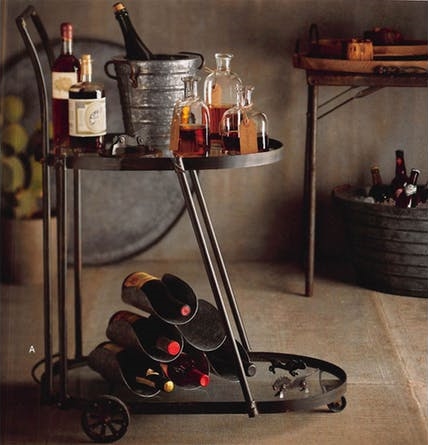 Wine Bucket Set: The wine buckets in the Roost Alvarado Wine Bucket Set are perfect for festive functions. Made from galvanized iron sheet, the bucket is double walled for extra insulation, which keeps the bottles cold for a longer duration. Their antique finish makes it a special combination along with the Victoria Bar Cart. We strongly suggest you buy both these together.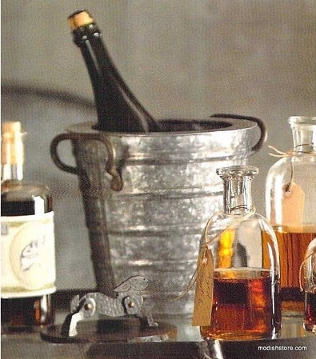 Bar Accessories: No bar would be complete without a Ice Bucket and handy Snack Serving Accessories. That's where we suggest you check out the Roost Hemingway Ice Buckets & Roost Hemingway Linked Snack Bowls . The Hemingway Ice Bucket features coopered construction, a stainless steel insert, and a lid that cleverly stows accompanying tongs. You can prepare drinks with it and serve snacks in style with the solid sheesham wood made Hemingway Linked Snack Bowls.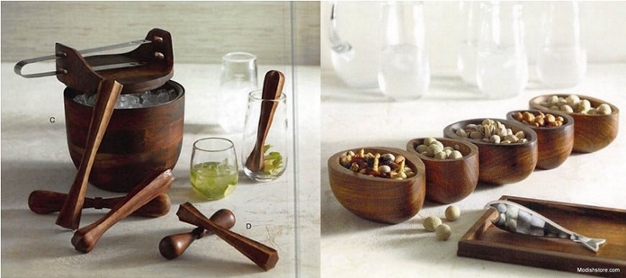 Wine Glass Decanter: If you're a believer in decanting wine, don't miss the Kalalou White Wine Glass Decanter With Ice Pocket, which comes with a special ice pocket. Made in the crowded city of Bogota, Colombia, these decanters are made by a small family owned glass factory, where talented glass blowers create these handmade works of art. These are free form organic pieces (not made from moulds) using recycled glass from old windows, automobile glass, and bottles. Each design is one-of-a-kind!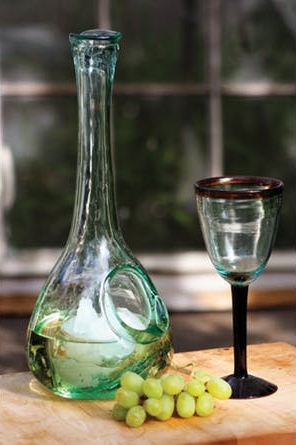 Wine Goblets: Any home bar that boasts of a wine rack must have some exquisite wine goblets to go with. That's why we recommend the GO Home Set of Coil Red or White Wine Goblets. This will enhance the ambience of your dinner party and bring a level of elegance, style and flair to any dining room. Made with hand-blown glass, each glass boasts a delicately ornate look and is adorned with glossy finish to add a touch of elegance to your serving. This set can also be a perfect gift for any wine lover.
Aperitif Glasses & Absinthe Spoon: You can add style and flair to your home bar with the Roost St. Remy Aperitif Glass and Absinthe Spoon Collection. Use the aperitif glass to serve a smooth drink before a meal to stimulate the appetite of your guests. The glassware is mouth-blown and hand-pressed and comes in mixed sets of six. The collection of silver plated absinthe spoons are inspired by antique spoons from southern France. Each of the three designs features a slotted pattern to support a sugar cube or to simply add glamour to the home bar.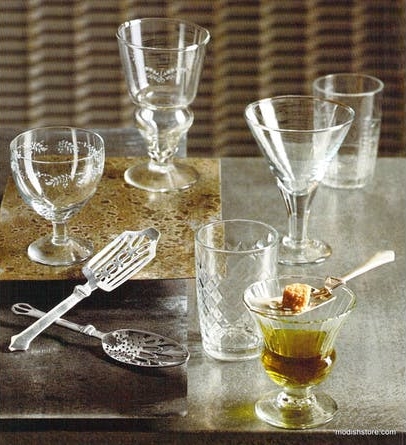 Ice Scoop: Looking to top up your drink refill with some ice! Use the Kalalou Zinc Scoop with Brass handle – refilling a drink with ice has never been so stylish with the beautiful scoop made of zinc and a brass handle. The scoop is adequately sized to allow a generous ice scoop if needed.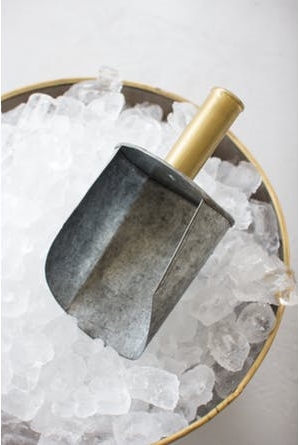 Bottle Opener & Cork Pull: Last but not least, your home bar needs a handy set of bottle openers and cork pulls. We recommend a utilitarian multitasker – the HomArt cast-iron Skeleton Key Bottle Opener and Cork Pull which is hand painted with an antique silver finish. The handle of the key is a bottle opener, and the shaft pulls apart to reveal a hidden corkscrew. This is suited for many types of wine collections and accoutrements. It can also be a perfect accompaniment for a gift of wine or as part of a gift basket.
So here's wishing you a great home bar. Do send us some photos once you've set it up!